ACL Cables PLC unveils ACL Fire Zero to Dealer Market
2020-01-24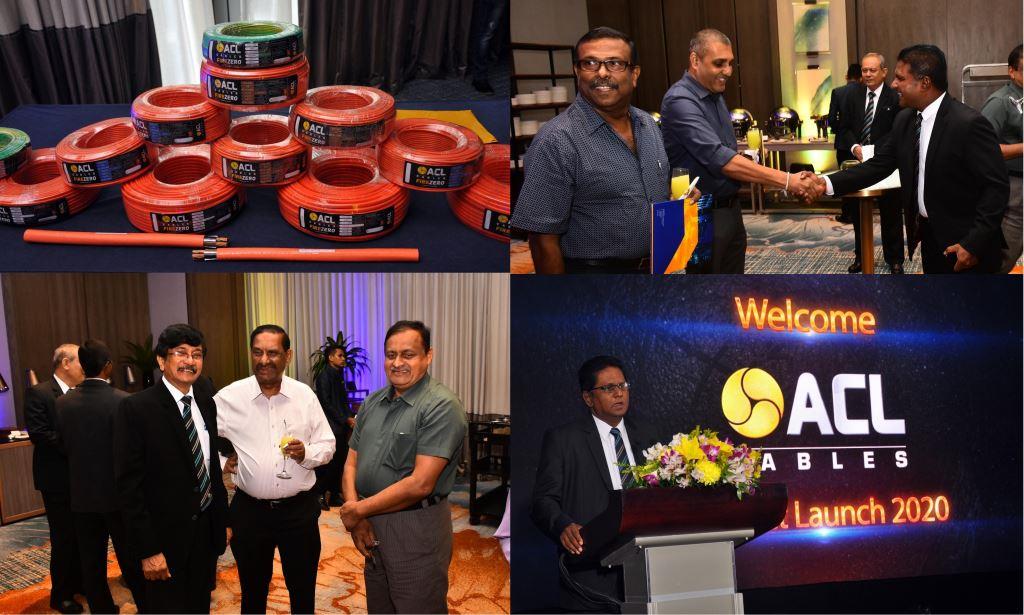 ACL Cables PLC, Sri Lanka's No.1 cable manufacturer unveiled its premium range cable brand, ACL Fire Zero to its dealer market at a function held on a grand scale at the Shangri-La Hotel Colombo recently.
Attendees at this special event included ACL Senior Management, key ACL dealers from the Western province, staff and well-wishers.
Continuously recognised as an innovative company, ACL Cables have developed this unique cable utilising their superior capacities and advanced technology.
ACL Fire Zero is designed with special fire retardant qualities and halogen free compounds and importantly, the only cable of its type currently marketed in Sri Lanka.
Commenting on the launch, Managing Director, ACL Cables PLC, Suren Madanayake said, "I am delighted to launch this unique cable with special features to the dealer market. We have been fulfilling requirements in the projects market with ACL Fire Zero but now we have taken a step further and extended it to the retail market as well. As the no.1 cable in Sri Lanka we always take responsibility to manufacture and market a superior product than our competition. It has always given us the first mover advantage and I believe that ACL Fire Zero would also follow suite. We have invested our knowledge, effort and time to build a cable which contains fire retardant and eco-friendly features. Hence, I believe customers will understand the importance and advantages of such a cable and ensure they use ACL Fire Zero for their new buildings and properties.
This special feature in Fire Zero cables guarantees that when a fire occurs due to an electrical short circuit, it extinguishes itself, preventing it escalating along the cable.
Furthermore, even when a building catches fire due to external reasons, if the building is wired with Fire Zero, black smoke, acidic gasses or toxic gasses will not be emitted from the cables, which in turn assists people evacuate easily without suffocation or other harmful effects taking place due to the fire.
Thereby it ensures zero risk of fire within the premises and is the first and only eco-friendly cable in market.
Deputy General Manager – Sales & Marketing, Lakshman Bandaranayake added, "I thank our Chairman, Managing Director and all personnel including the Factory, Quality Assurance, Technical Services and Research and Development in designing such a product. This has helped us to come to market as a fully equipped sales force with a range of superior products. I would like to invite all our dealers and distributors to have faith and confidence in ACL Fire Zero and promote this amongst consumers, which would in turn be beneficial to the entire construction field. Similar to achieving great heights in the market with ACL Fireguard and ACL Elegance (our latest switch range), I am confident that we would achieve even better results in our sales with ACL Fire zero."
ACL Fire Zero comprises five unique features that are tested and verified according to British standards. ACL Cables is also the only cable company in Sri Lanka that has an in-house test laboratory to assess these features. Hence the quality and features of Fire Zero cables manufactured and brought to the market by ACL is accurate as per proper standards.
Based on the Oxygen Index test - which is the amount of oxygen needed for a fire to occur, the necessary standard is 29%. While normal PVC cables display 22% - 24%, the ACL Fire Zero standard is 32% - 36%.
In the Temperature Index test indicative of the temperature required for a fire to occur, the required standard is stipulated as 250°C. For normal PVC cables it is 180°-190°C. However, for ACL Fire Zero it is 300°-500°C.
According to the Flame propagation test, which is the distance a fire can spread along the cable during a fire, the normal standing being a maximum of 2.5 meters and for regular PVC cables it is limitless. Importantly for ACL Fire Zero it is only a maximum of 50 cm.
Based on the Smoke Density test which is indicative of the ability of light to pass through a minimal amount of smoke during a fire, the minimum required standard is 60%. For normal PVC cables it is 18% -24%. However for Fire Zero it is 80% - 94%.
ACL Fire Zero is available for purchase at all dealer points in the Western Province and is also available for purchase islandwide through ACL's extensive distributor network on request.
ACL Cables PLC holds a market share of 70% and a revenue over 16 billion rupees as a group. In addition to its range of electrical cables ACL also markets electrical switches, circuit protection devices, ceiling fans and many more electrical accessories.