ACL Cables partners CEB and ENSTO Finland in successful completion of fourth 'ACL SAX' conductor installation project
2021-07-12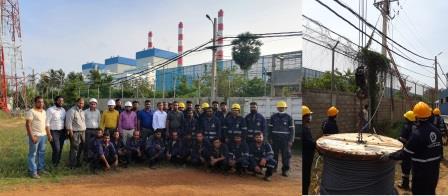 ACL Cables PLC, Sri Lanka's No.1 cable manufacturer recently completed another significant milestone with the installation of its fourth 'ACL SAX' 80mm² 33KV medium voltage covered conductor electricity transmission project.
The installation took place at a site close to Sri Lanka's largest power station, the Lakvijaya Power Plant, commonly known as Norochcholai Coal Power Plant. This is an ongoing project and was carried out in partnership with the Ceylon Electricity Board (CEB) and is the fourth such installation of its kind.
For this the project, ACL also partnered ENSTO Finland. The project was completed, based on ENSTO accessories specifications with site supervision and training provided by ACL Cables. The first inspection is scheduled to take three months after the installation, for quality checks and to ensure the line is in proper working order.
ENSTO is an international technology company which designs and provides smart and reliable electrical solutions and expertise for distribution and usage of electricity.
Commenting on this landmark achievement, ACL Cables Managing Director, Suren Madanayaka said, "We are extremely pleased to be involved in this national development project. As the number one cable in Sri Lanka we always believe in contributing towards improving national infrastructure. Apart from our core offering Aerial Bundled Cables and bare conductors to the CEB, our 'ACL SAX' conductor has also been uniquely designed and developed to facilitate the purpose of electricity distribution."
He added, "We always believed in offering products not only of the highest standards but products which emulate a unique system approach and design perfection as opposed to the production of a mere medium voltage covered conductor. The end result in this instance is the 'ACL SAX'. I have also personally witnessed the conductor's rigorous development process for over a decade since we began research and development activities in 2010. We have also exceeded the expected British standards. I am confident this series of projects will create a successful path for 'ACL SAX' in the future. We are extremely appreciative of CEB and ENSTO for having faith in us and supporting this project."
Notably, three similar projects have been finalized previously as part of the same project. The first was installed at a site in Tangalle Bay with a length of one km.
The 'ACL SAX' conductor is a unique medium voltage solution developed to minimize the challenges faced by the use of bare conductors for medium voltage electricity distribution in areas of high density of vegetation or salty atmosphere.
The initial concept of the product was designed in 1993, with the assistance of Nokia, Finland based on the requirement of a 33kV distribution line in Ratmalana. In 2010, the product was developed further and branded as 'ACL SAX'. Today, the well-designed product assures higher reliability and better durability by avoiding frequent failure.
This system differs from traditional Medium Voltage Covered Conductors since it emphasizes on; line design, conductor design, use of high quality accessories and proper installation. System approach is absolutely essential for "ACL SAX" to perform to its expectations. A proper system approach for covered conductor 11KV and 33 KV distribution lines include the use of high quality conductors, high quality accessories and perfect installation. ACL together with ENSTO and its in-house expertise have established themselves to execute the above system approach to perfection.
'ACL SAX' is also recognized as a value for money solution compared to fully insulated Aerial Bundled Cables and underground cables which are high in price and at times cumbersome to install.
Major benefits of ACL SAX covered conductors are reliability in power distribution even under extreme weather conditions, ability to install between narrow tree bunches making it eco-friendly and safer than a bare conductor
Today, ACL Cables is the market leader with 70% market share and over LKR 20 billion in annual revenue as a Group.