ACL Cables partners Institute of Technology University of Moratuwa in special educational forum
2023-05-22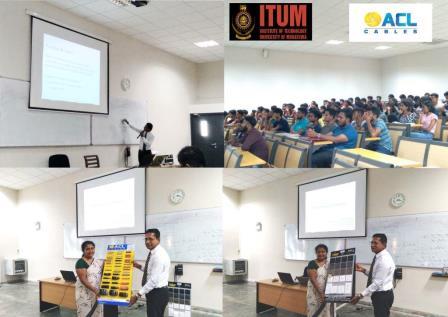 In a dedicated effort to enrich students' knowledge and understanding, ACL Cables PLC, Sri Lanka's No. 1 cable company partnered the Institute of Technology University of Moratuwa (ITUM), the centre of excellence in Technological Education, to conduct a special educational forum recently.
Organised in collaboration with the Electrical, Electronics and Telecommunication Technology Faculty of the University, ACL conducted the special lecture on the theme 'Basic awareness of electrical cables.' The session was held for the 3rd year undergraduates of the faculty. The lecture was delivered by Palitha Ethulgama, Deputy General Manager, Sales and Marketing, ACL Cables PLC.
Deputy General Manager, ACL Cables, Palitha Ethulgama added, "As the pioneer of the cable industry it is our pleasure to train and educate the next generation on the application and practicality of the industry. We believe that they will benefit from the knowledge gained from this forum once they step into the industry as electrical engineers. Therefore, it is our duty and responsibility to continuously support the education of these undergraduates to make them efficient and effective professionals.''
In addition to facilitating the special forum, ACL Cables also donated two sample boards inclusive of domestic and industrial cables and its range of electrical switches, sockets to the Faculty. The sample boards were shared to be showcased as an exhibit at the labs to support students' education and ensure they are well versed in electrical cables and switches.
Furthermore, to support the practical work of students, ACL donated a separate set of switches, sockets including the latest releases of key card switches and motion sensor switches, facilitating students' ability to design electrical circuits during practical sessions.
The donations were handed over by Palith Ethulagama and Shavinda Senanayake, Brand Manager, ACL Cables PLC. Mangalika Kannangara, Senior Lecturer and Shiran Maduranga, Lecturer of the division of Electrical, Electronic and telecommunication technology received the donations.
Commenting on the educational forum Mangalika Kannangara, Senior Lecturer, stated, "We thank ACL Cables in conducting such important educational forums for our students at the Electrical, Electronic and Telecommunication technology Faculty. We highly appreciate their effort in sharing vital industry knowledge and educating students on the practical application in a perspective of industry standards. Faculty members and students alike, found the session extremely important and useful to enhance our overall knowledge. I also thank ACL for their generous donation of two sample boards and samples, supporting the practical education of our students."
Committed to supporting students in career pathways, ACL has previously participated in the ITUM Career Fair, held in December 2022 and recruited undergraduates for a 6-month internship programme. Thereby, a total of 15 students joined the internship programme for their first implant training. Another batch of 15 students are expected to join the programmme shortly.
ACL markets a range of products including electrical cables, switches, circuit protection devices, ceiling fans and many more related electrical accessories.