ACL Cables PLC achieves another milestone with the launch of ACL online sales channel – "ACL shop online"
2021-03-01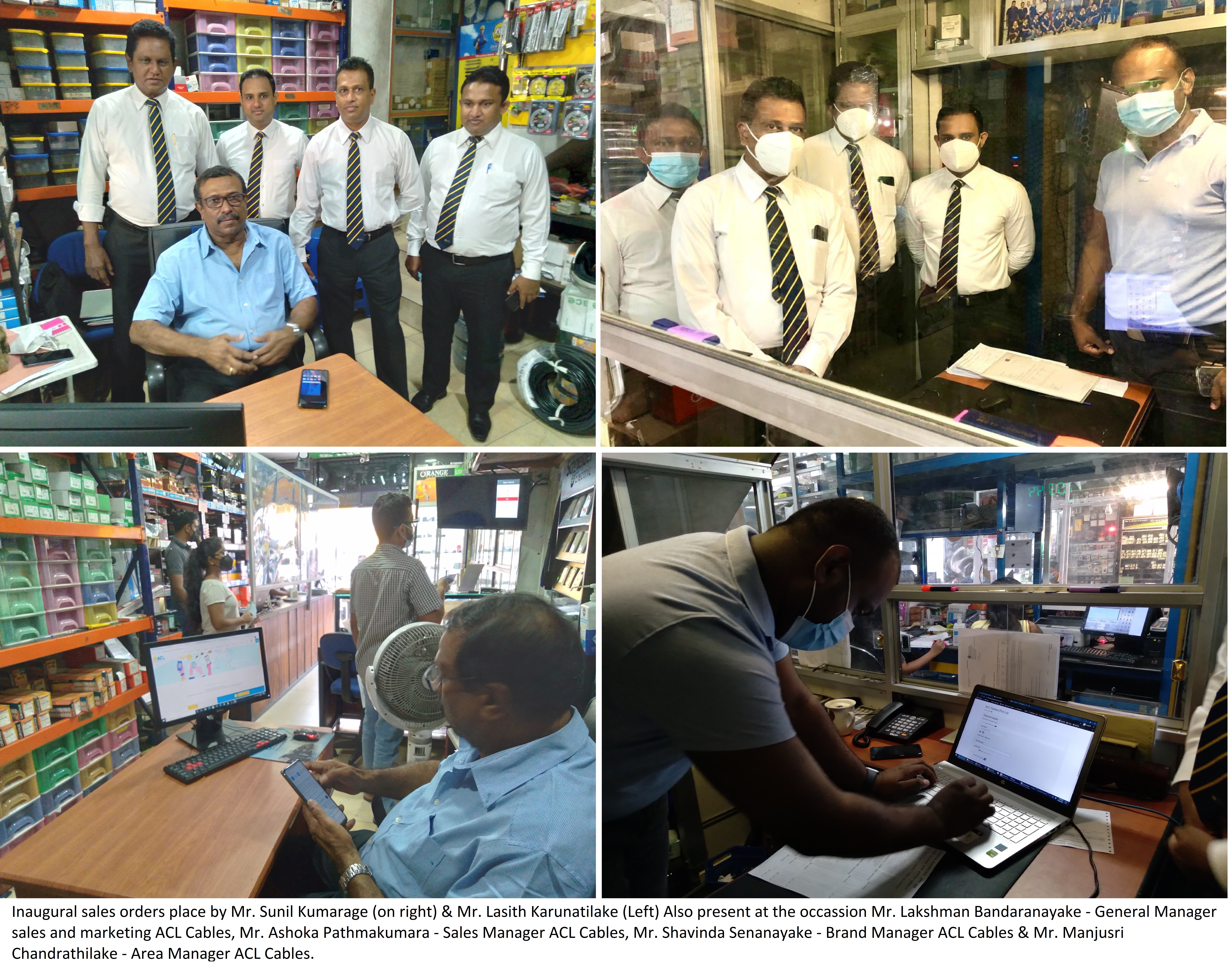 Creating another revolution in the cable industry, ACL Cables PLC, Sri Lanka's no.1 cable manufacturer,
launched its own e-commerce platform designed to help customers personalize their buying experience.
The "ACL shop online" e-commerce platform can be accessed through the ACL corporate website
www.acl.lk or through the direct link www.acl.lk/shoponline. This paves way for the company to reach
its customers more conveniently and efficiently and also provides a novel way of digitalizing its sales
effort.
The inaugural online sales order was placed by two of the key account dealers of ACL, namely: Mr. Sunil
Kumarage and Mr. Lasith Karunatilake.
For ACL it is a landmark event, as this is the first time creating their own online space, ensuring
customers have easy access to the wide range of products. Previously, ACL products were available
online only via third party listed e-commerce platforms.
With the new e-commerce platform, all ACL customer segments namely dealers, consumers (house
builders), electricians etc., can obtain all their product requirements at one location.
Customers are required to register their details on the ecommerce portal prior to shopping. This will
ensure users to fulfill their requirements with ease during recurring visits and a seamless shopping
experience. Nevertheless a general customer is given the option to access the shopping portal and
purchase their requirement without a registration as well.
Importantly, the shopping cart consists of the full range of products marketed and distributed by ACL
Cables including domestic cables, switches, circuit protection devices, ceiling fans and all electrical
accessories.
Commenting on the launch of the site, "Suren Madanayake, Managing Director ACL Cables PLC noted,
"As the industry's innovator we always open doors for novel concepts and innovative platforms. This is
one such occasion. With the prevailing situation within the country we believe that this will be helpful
for our customers, especially to continue their usual construction activities without any delay. The
online platform will also provide convenience for all customers to process their requirements with ease
since it is accessible through any device such as a mobile, laptop or desktop. We believe that in a tech
savvy era the ACL e-commerce platform would prove to be a success amongst all our customers as they
positively embrace this new channel."
Notably, this e-commerce platform is positioned as a separate sales channel for ACL apart from its usual
dealer and distribution sales channels, which is the core sales operation of the company.
Providing an added bonus, all products listed on the site are priced at a special discounted rate below
the usual maximum retail price (MRP) encouraging customers to visit often and purchase their
requirements through the site.
ACL Cables own 70% of the cable market share and revenue over Rs. 18 billion as a group. The company
has evolved itself to position as a one stop shop organization in the electrical manufacturing industry. In
addition to its cable business ACL manufacturers and markets a range of switches, circuit protection
devices, ceiling fans, and many other electrical accessories.