ACL Ceiling Fans awarded Star rating in compliance with Energy Efficiency and safety standards
2020-05-27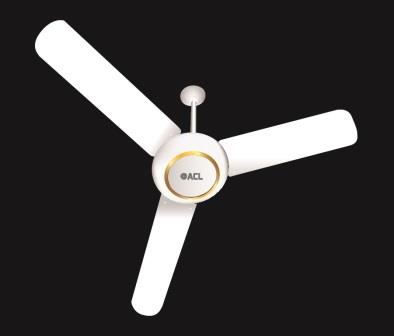 ACL Cables PLC, the No. 1 cable manufacturer in Sri Lanka achieved another important milestone recently receiving the Star rating in compliance with Energy Efficiency and safety standards for its electrical ceiling fans.
The ACL Ceiling fans received this award in compliance with Sri Lanka Standards Institute (SLSI) - SLS 1600 and SLS 814 Part 2 regulations.
ACL Cables began marketing ceiling fans in 2016 and is recognised for its innovation and reliability. Receipt of the new Star rating award, exactly four years since it began ceiling fans operations confirms the organisation's commitment to ensure compliance and safety standards.
ACL markets its fans in two variants such as the aluminum blade which is rust free and the metal blade fans; both with a sweep diameter of 56". The aluminum blade fan features a gold ring motor while the metal blade fan has a silver ring motor. ACL provides a two-year comprehensive one-to-one replacement guarantee for its motor. The ACL ceiling fan motor is also now equipped with the safety cable and safety switch as well as measures to strengthen its safety features.
SLSI offers the scheme of star rating to the manufacturers and importers of electrical ceiling fans having two or more blades with sweep diameter 56" (1400mm) associated with regulators having a minimum of 5 speed settings. Random samples of ceiling fans are drawn and initially tested for compliance with safety parameters.
Once the safety measurement is passed, tests continue for energy labelling under the parameters of air velocity, power consumption and power factor.
Based on performance it is divided into five categories such as star ratings denoted by stars. The performance grading and star rating is conducted and awarded under stringent process and quality standards set by the SLSI, conducted at their in-house laboratories.
Commenting on receiving this award Suren Madanayake, Managing Director ACL Cables said, "As a quality-centric company, ACL Cables PLC products continuously comply as per national and international standards. This runs across all our product range from cables, switches to ceiling fans and all other electrical products and appliances we market. Hence, acquisition of the star rating is another important milestone for us. We have maintained positive growth in the market for the last three years with our aluminum and metal ceiling fan variants. This certification will help us to further enhance the prevailing market acceptance for ACL ceiling fans and in time to come we hope to reach greater heights for this product."
Market information also reveals that ACL ceiling fans have gained positive feedback and acceptance amongst dealers, electricians and consumers.
Other than its cable and ceiling fan operation, ACL also markets wall switches, circuit breakers, trip switches, main switches and many more electrical accessories under the ACL brand name.
ACL Cables dominates the cable industry with a 70% market share with annual revenues over Rs.16 billion as a group.