International Test Standards Reveal ACL Fireguard as 'THE' Only Fire Retardant Cable Ensuring Safe Home
2018-11-27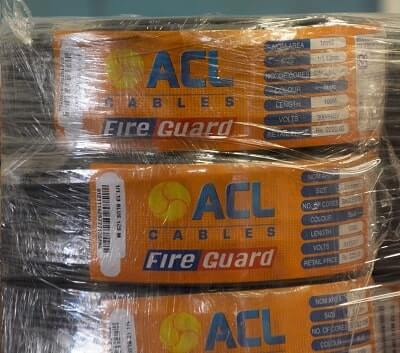 ACL Cables PLC the No. 1 cable expert in Sri Lanka since 1962 has continuously been in the forefront of ensuring stringent standards are maintained during manufacturing of its products while placing great importance and responsibility in its quality and authenticity.
ACL's Fireguard is the first-ever range of fire resistant cables designed to safeguard homes and all types of buildings through preventing the spread of fire. Manufactured as a specially formulated PVC cable adhering to International test standards that have also confirmed ACL Fireguard as the only cable with proven fire retardant qualities for a safe home. This has been established for over 13 continuous years since the launch of Fireguard in 2005.
Certifying its quality further, Singapore's PSB Academy, known as 'the Future Academy' has also tested and proven ACL Fireguard wires are beyond its expected standard levels for fire retardant qualities.
Recognised as Singapore's Productivity and Standards Board, the PSB Academy, in 2017, was conferred 'Education Institution of the Year' by APAC Insider, an organization which showcases Asia-Pacific's most innovative, forward-thinking and successful businesses. The Academy also received two consecutive SBR National Business Awards in 2017/18 in the Education category for outstanding work in the region. The Singapore Business Review (SBR) National Business Awards recognise exceptional home-grown businesses.
The Academy has three set quality parameters according to British standards specifically required for certifying a fire retardant cable. The Academy has acknowledged that ACL Fireguard surpasses these set standards.
The tests such as Oxygen Index test, Flame propagation test and Temperature Index test standards have been carried out on ACL Fireguard wires. The quality standards are shown in the chart.
| | | | |
| --- | --- | --- | --- |
| Test | Required Standard | ACL Fireguard standard | Other PVC cables |
| Oxygen Index | Exceed 29% | 35% | 24% |
| Temperature Index | Exceed 250 degree celcius | 282 degrees celcius | 180 degrees celcius |
| Flame propagation | Less han 2.5 meters | Stops the spread of fire in 50 cm | Spread of fire is limitless |
Note – Tested and proven by PSB academy standards singapore
As the market leader, the company firmly believes in its entrusted responsibility towards educating home owners on quality cables and standards that should be followed.
Fires have been a major cause of losses to both human life and property hence safety from fire is of paramount importance during completion of a building. Similarly cables are frequently blamed as the cause of fires, but often it is not the failure of the cable which starts a fire but damaged cable insulation, overloading or failed circuit protection.
House builders especially consumers should think wisely, and be educated on necessary standards and certification applicable prior to purchasing cabling requirements. Moreover there are many inferior and duplicate electrical wires available in the market that claim to be fire retardant. However, these sadly lack the required and proven test certification, which is shown above.
ACL Fireguard can lay proud claim to be the only electrical wire in market that prevents the spread of fire holding duly internationally certified, tested and proven fire retardant qualities. To ensure a safer house, consumers are urged to ensure the use of ACL Fireguard wires.