ACL Cables Clinches Silver for 'Brand of the Year - B2B' at SLIM Brand Excellence 2018
2018-11-16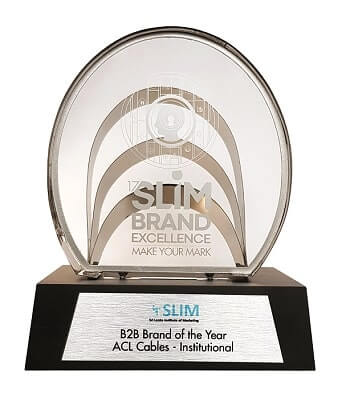 Sri Lanka's No 1 cable expert and pioneering cable manufacturer, ACL Cables PLC clinched the silver award for 'B2B Brand of the Year' at the SLIM Brand Excellence 2018 gala awards ceremony held recently at the Shangri-La Hotel, Colombo.
ACL Cables received this accolade in recognition of demonstrating brand marketing excellence effectively reaching its B2B audience and attaining the maximum value possible within the industry.
This is the second occasion that ACL Cables won the accoladein the same category, after contesting for the second successive time at the above event.
Winning such an accolade this year required a sustained level of excellence and resilience despite various challenges and a rapidly evolving industry.
The SLIM Brand Excellence Awards celebrates brand excellence at national level and rewards outstanding efforts of exceptional marketers.
As the national body of marketing, the Sri Lanka Institute of Marketing (SLIM) encourages strategic and result-oriented thinking in the fields of brand development, sales, advertising and research through prestigious events such as the SLIM Brand Excellence Awards.
Commenting on receiving this illustrious award, Suren Madanayake, Managing Director, ACL Cables, "We are very pleased and delighted to receive this award. It has been only the second occasion where we have been a contender and we've won again. As the industry leader we always set norms and standards for the industry as it paves way for consumers to engage in new life experiences.
This has always kept us at the forefront as the expert and innovator, which has helped consumers to believe and rely on us during every purchase made. I wish to thank all our customers and stakeholders who helped us gain this achievement yet again."
ACL Cables PLC, has continuously been in the forefront of the local cable industry earning a strong following in the market providing customers with innovative and high quality products.
The company is renowned for introducing many industry firsts to the market including fire retardant and fire resistant cables via brand names 'ACL Fireguard, ACL Firezero and ACL Fire survivor' – the later two focuses exclusively on B2B consumers. This innovation and its creative brand mareting guide led ACL to win this accolade in the B2B category.
ACL Cables is also the only cable company to own the above fire rated products with proven national and international quality and standards certification.
The company has also introduced new innovative product categories such as the finest range of electric switches and sockets based on research and stringent testing via their laboratory.
With Annual Revenue over Rs. 16 billion and a market share of 70% as a group, ACL Cables PLC continues to perform strongly with relatively high value additions and unmatched competition within then industry.